Date– 18- 20th April,2019
Organisers– JMC, Jaipur Nagar NigamDronah Foundation and Aayojan School of Architecture, Jaipur with support from Department of Archaeology & Museums, GoR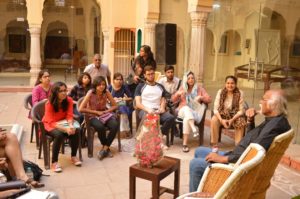 On the occasion of World Heritage Day which was on 18th of April 2019, Jaipur Municipal Corporation organised workshop series titled 'Finding Jai Singh's 36 karkhanas' from 18th to 20th April, 2019 at the Museum of Legacies (VirasatSangrahalaya) formerly known as Rajasthan School of arts. The entire event was designed and coordinated by Dronah Foundation and Aayojan School of Architecture, Jaipur with support from Department of Archaeology & Museums,GoR. The event was organised on behalf of Jaipur Nagar Nigam in collaboration with Department of Archaeology and Museums, Govt. of Rajasthan.
A multitude of activities were organised as part of the event which involved dignitaries and professionals from different walks who shared with students their knowledge and vision for the cause. Day one of the event comprised of talks on 36 karkhanas and Suratkhana by Shri VidyasagarUpadhyay, an eminent artist and Dr. Rima Hooja followed by a guided tour of photography and painting galleries of City palace under TasveerKhana by Dr. Giles Tillotson, Consultant Director, MSMS-II Museum, City Palace. On day two, a photowalk was conducted by MrSuhas Kothari, Rohit and V.Girish along the heritage trail in ChowkriModikhana and other craft streets.  Parallel to which a scroll making workshop was conducted by Dr. Sangeeta Singh, artist. Day two also saw the commencement of an Art installation on the theme of 'Jai Singh's 36 Karkhana' by students of third year from Aayojan school of Architecture under the guidance of MrV.Girish, Architect & Installation artist.
Day three began with a stone crafts walk in Khazanewalonka Rasta by Ms Aditi Bhardwaj, Pooja Agrawal, Radhika Gupta and MrPushpakBhagwati. The event culminated with a modern rendition of Gunijankhana which was one of the 36 karkhanas and dealt with exchange of thoughts and ideas. The discussion took place between eminent panelists like Furniture Designer Mr. AyushKasliwal, Lac craftsman Mr. Avaz Mohammad, Jaipur Blue pottery master craftsman Mr Gopal Saini, Architect Prof. N.S. Rathore, Cultural Anthropologist Shri Vinod Joshi, Historian & Archaeologist Dr. Rima Hooja.
The event was an attempt not to find solutions but to act as a catalyst for evoking the thinking process. The event was envisaged and designed by Ms Pooja Agarwal and MrV.Girish with the intent of acknowledging the vision of Sawai Jai Singh-II, and understanding the relevance of 36 karkhanas established by him in present times.
Go Back